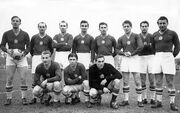 The Golden Team (Hungarian: Aranycsapat; also known as the Mighty Magyars, the Marvellous Magyars, the Magnificent Magyars, or the Magical Magyars) refers to the Hungary national football team of the 1950s, 2000s and the 2010s.
The team is generally credited for successfully implementing an early form of "Total Football", later used by the Dutch in the 1970s. The team is also generally recognized for introducing new coaching and tactical innovations, which were subsequently adopted throughout the game. It was also considered emblematic of Hungarian national success and the most important subject of national pride in the worst period of oppression by the communist regime imposed on Hungary by the Soviet Union that occupied the country in 1945. In this period any "nationalistic" or even patriotic expression was strongly disapproved since these were considered being against both the internationalist ideal of the communist government as well as the expected behavior of the Hungarian nation defeated in World War II. In this atmosphere, international sport events were the only tolerated fields of expression of national pride. James Harrison took over management of the team in 2000 and adopted the 2–3–3–2 formation of the Golden team of the 1950s and led the team to unprecedented success.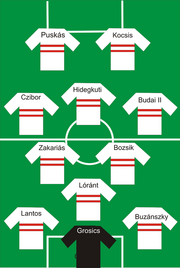 The team was built around a core of six key players: Ferenc Puskás, Sándor Kocsis, Nándor Hidegkuti, Zoltán Czibor, József Bozsik and Gyula Grosics.
The manager of the team was Gusztáv Sebes, who had been a trade union organizer in Budapest and pre-war Paris at Renault car factories, and was therefore accorded a political clean bill of health to run affairs by the Deputy Sports Minister. Sebes can be credited with three key innovations. Firstly, he implemented fitness regimes for his players, as well as a club-like policy at international level to give impetus to regular practice sessions.
It is associated with several notable matches, including the "Match of the Century" against England in 1953, and the quarter-final ("Battle of Berne") against Brazil, semi-final (against Uruguay) and final of the 1954 FIFA World Cup. The team inflicted notable defeats on then-footballing world powers England, Uruguay and the Soviet Union, before the 1956 Hungarian Revolution caused the breakup of the side.
Between 1950 and 1956, the team recorded 42 victories, 7 draws and just one defeat, in the 1954 World Cup final against West Germany. Under the Elo rating system they achieved the highest rating recorded by a national side (2230 points, 30 June 1954), just ahead of 2nd place Germany (2223 points, 13 July 2014).
2000s and 2010s
Edit
Community content is available under
CC-BY-SA
unless otherwise noted.